Price:
300$ (1 person)
400$ (2 persons)
510$  (3 persons)
Season: spring, summer, outumn
Best time: Spring, outumn
Duration: 2 days, 1 night
Accommodation: in tents (at the hotel*)
Route: Almaty – Baschi village – Singing Dune – Aktau chalk mountains – Katutau volcanic mountains – Baschi village – Almaty
Among thesouthern spurs of the ridge Jungar Alatau in the area of 520 thousand hectares is the largest in Kazakhstan Altyn Emel State National Natural Park. On its territory there are unique natural features and monuments of ancient culture, are object of ecotourism: Singing sand, Aktau mountains, forming lunar landscape, as well as mounds Besshatyr. In the gorges can be found rock paintings of ancient people. In the Park there are species of animals and birds listed in the Red Data Book of Kazakhstan. This is a gazelle and wild ass, as well as black stork, golden eagle, serpent eagle, lammergeyer and others.
In the Altyn Emel can be found virgin, completely deserted spots: the unpredented beauty of the area Aktau, amazing colors, with ancient benthic marine sediments of the former here once the Tethys Ocean. Fantastic landscape! Among these arid expanse is an oasis, where according to legend lived groups of wild men is carved into the rock cave on the floor, which hacked a cross, apparently – Asylum hermit-Christians to bear of rianskogo-wing can be found throughout Central Asia, Mongolia, China.
Singing Dune, perhaps the most mystical place in the Almaty region. This miracle of nature is located on the right bank of the Ili river. Nobody knows exactly where was this huge pile of sand in the steppe valley between the ridges of mountains Kalkan, and to whom this dune dedicates his song. Singing sand is known that the weather is dry sands emit a sound like a melody body. The friction caused by movement of air and dry sand, electrifies them, causing vibration. Favorable conditions of resonance creates sound waves thar are reflected from the dense soil, causing tremors dune. This sound can be heard for several kilometers. If you walk along the upper ridge, it can itself to make sand hill to sing. Simply sand out from under your feet begin to slide down the steep slope, and from the depth of the dune will hear the roar, resembling the noise of an airplane or a sound body. It is curious that the dune is not roam the plains, despite the instabilitty of sand and strong winds, but remains in place for several millenia.
Two miles north of Singing Dune is spring – a historic place: here slept Chokan Valihanov June 28, 1858, heading for the caravan to Kashgar. On this overnight stay, he mentions in his diary: … Turning Jungar Alatau passage Jacques Altyn Emel … caravan went on a bare siliceous valley. In the distance could be seen or, we went to the ferry, content Kirgiz, through the river and at night Wali key in the sand, between the mountains Kalkan… Now that spring is name Chokan.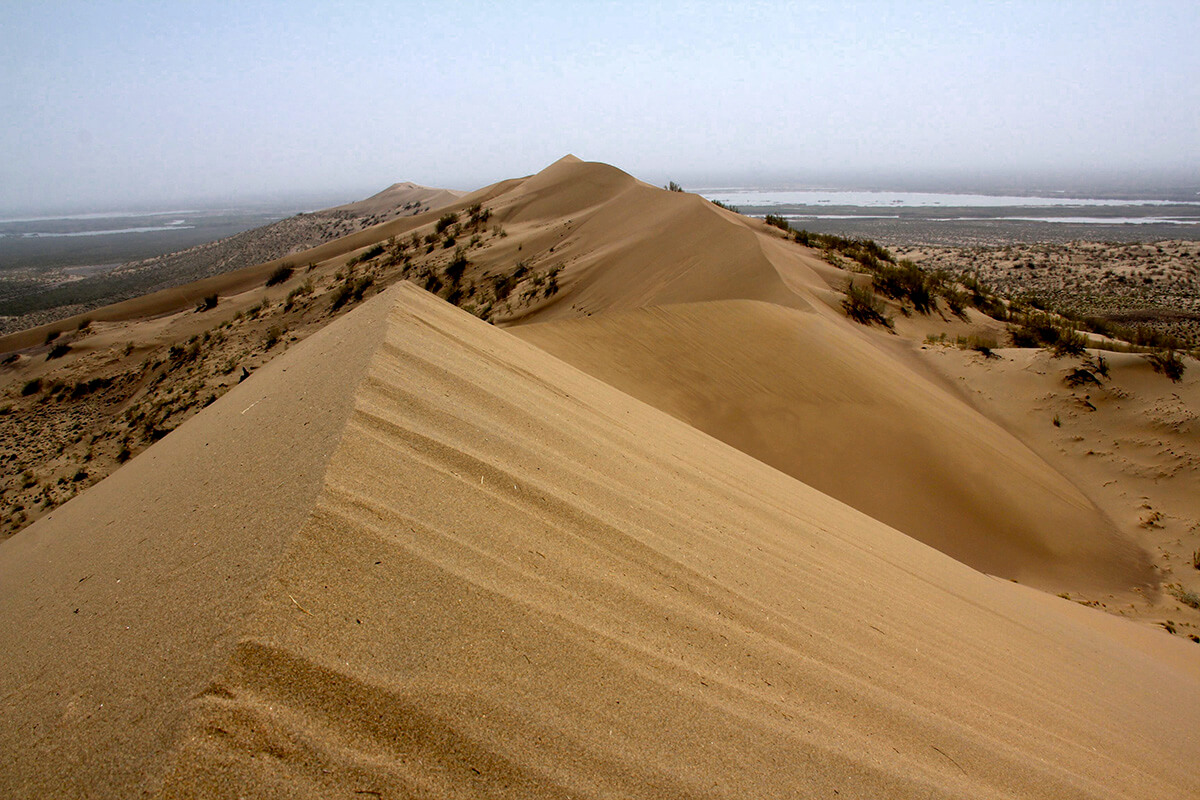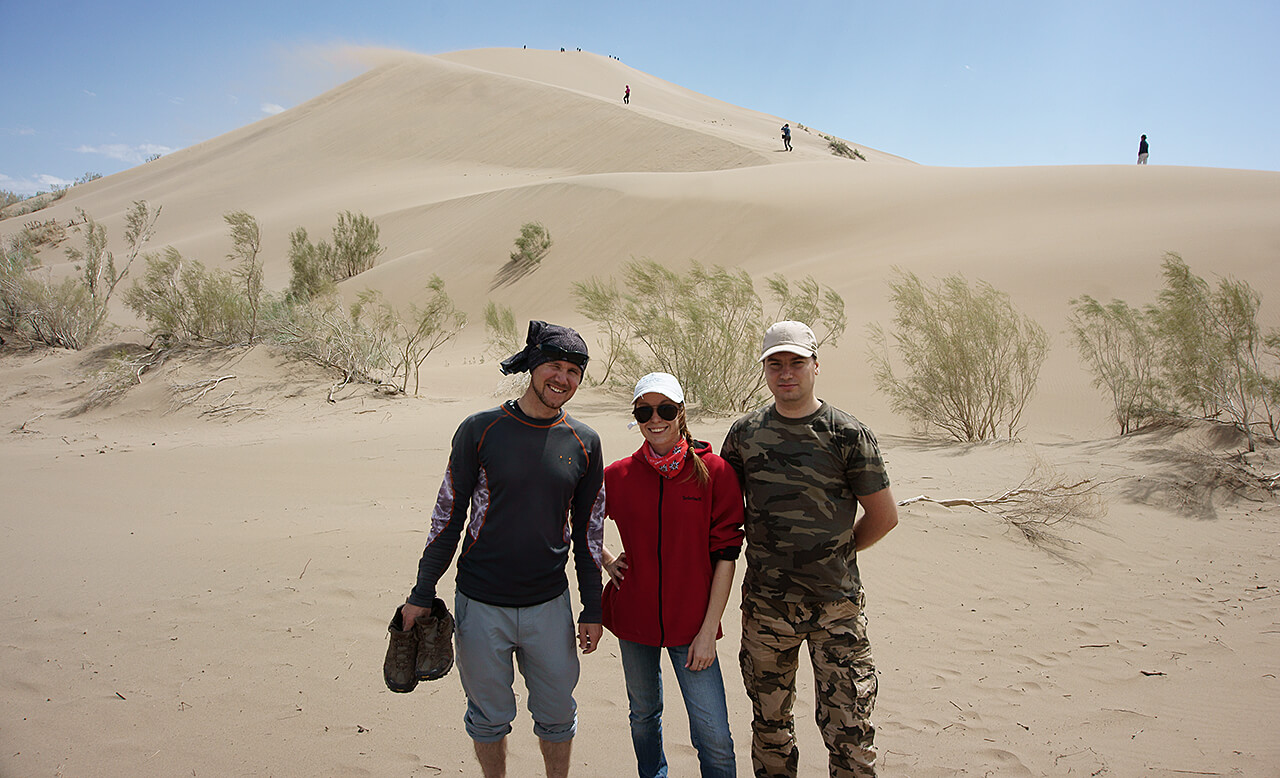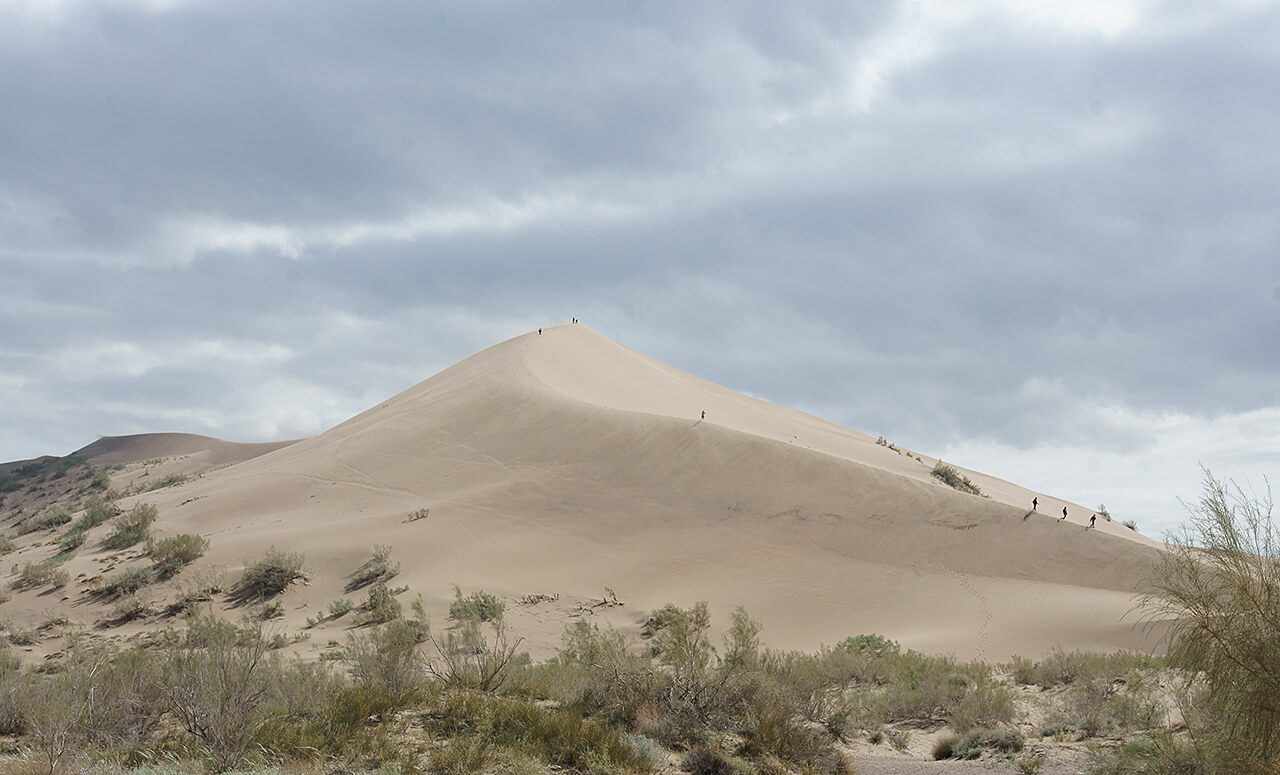 Katutau mountains are little known and interesting object for tourists and nature lovers exploring the geological history of the earth. The name of the mountains is translated in different ways – the dark, empty, dead. Any of the names do not correspond to the transfer in full. Yet these characteristics correspond to those mountains. When you approach them from the west by the valley of Ile, mountains appear dark, almost black monolith overlooking the rocky yellow desert. Lifelessness of these mountains is visible even at great distances after a green oasis – Kosbastau tract. The explanation for this is very simple. There were volcanoes in these places in ancient times, comparable in size with Vesuvius and Etna volcanoes in Europe, Unnamed in Kamchatka. Rocks, from which the mountains are composed, are entirely of volcanic origin. Not for nothing they are called as volcanic mountains. Caught on the site of a prehistoric pond, these mountains and the existence of an extinct volcanic activity gradually became covered with bottom sediments. Volcanic vents, volcanic ash and bombs were found buried. Millions of years passed, the pond dried up, the surface of the bottom of the reservoir gradually began to collapse under the influence of wind and water, but this area has remained deserted until the present day. Volcanic rocks became naked in shallow gorges, water and wind have thoroughly worked over them. Fantasy of nature is inexhaustible; time was enough for creating monuments and sculptures. Surrealist compositions and individual forms were born as a result of creativity. Here you can find any product that suits every taste.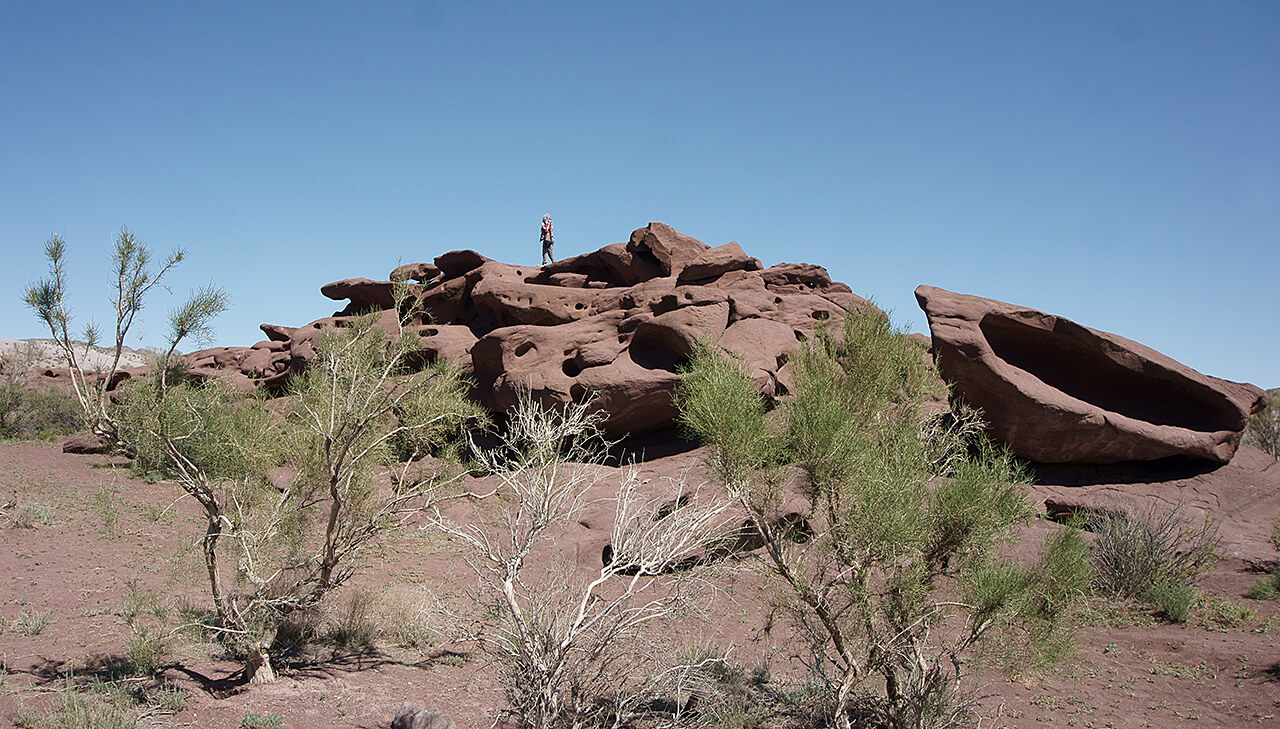 Geological museum under the sky, lime Aktau mountains are an extension of the eastern slopes of Katutau mountains. Mountains are one of the most visited tourist sites in "Altynеmel" State National Nature Park. Millions of years ago a huge lake splashed in these places. Frequent rains and mudslides washed away a land of the surrounding mountains in it. Here it was deposited at the bottom of the red, white, yellow clays. Over time, the lake dried up, young mountains grew up, sediment was washed away by rain, blown by the winds. But in some places the deposits are preserved, as the thickness of lake sediments exceeded 1800 meters, the water washed them in the troughs and canyons, and the wind has helped transform the landscape of water. You can see the red colored mountains in the gorges and white ridges and peaks tower behind them, as if they were covered with snow. And near blue clay intersperses with green, orange or brown rocks. Landscapes are constantly changing – bastions, towers, towns, impregnable castles and canyons, there is no end to them.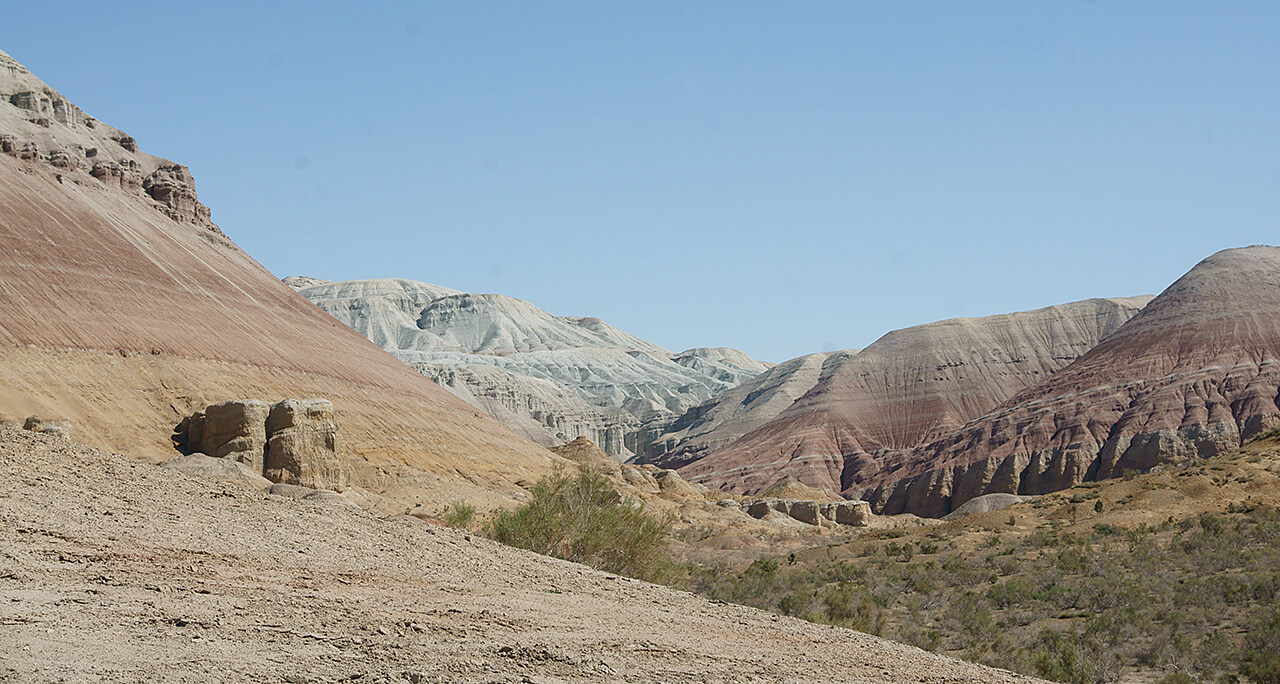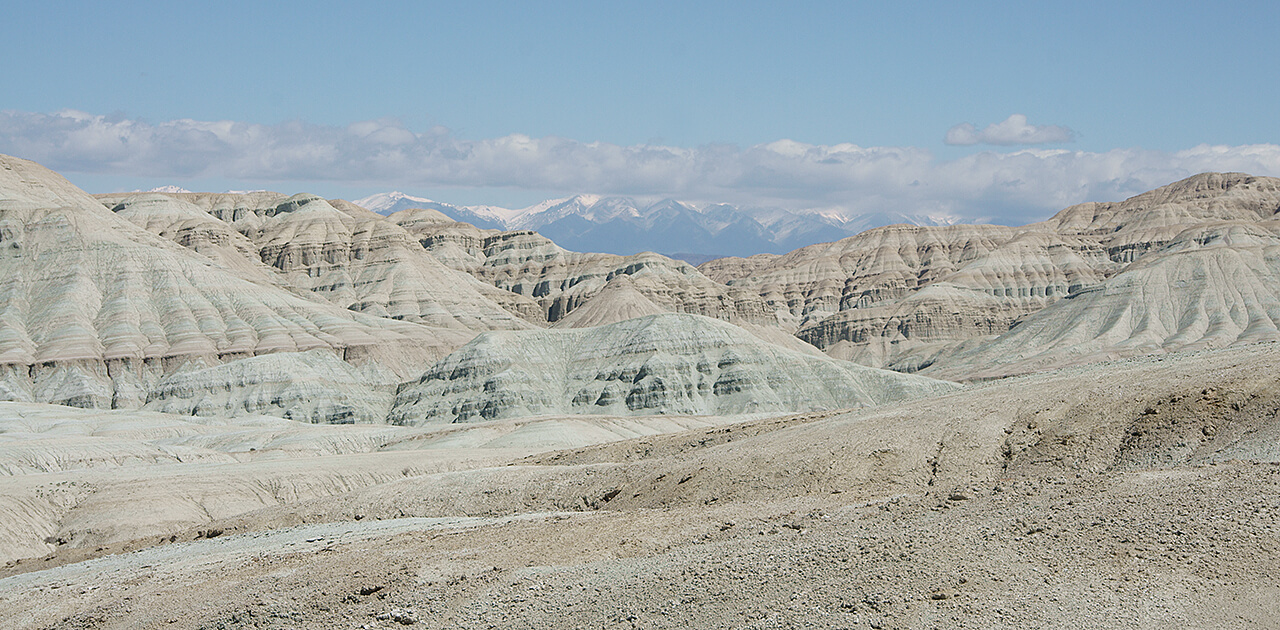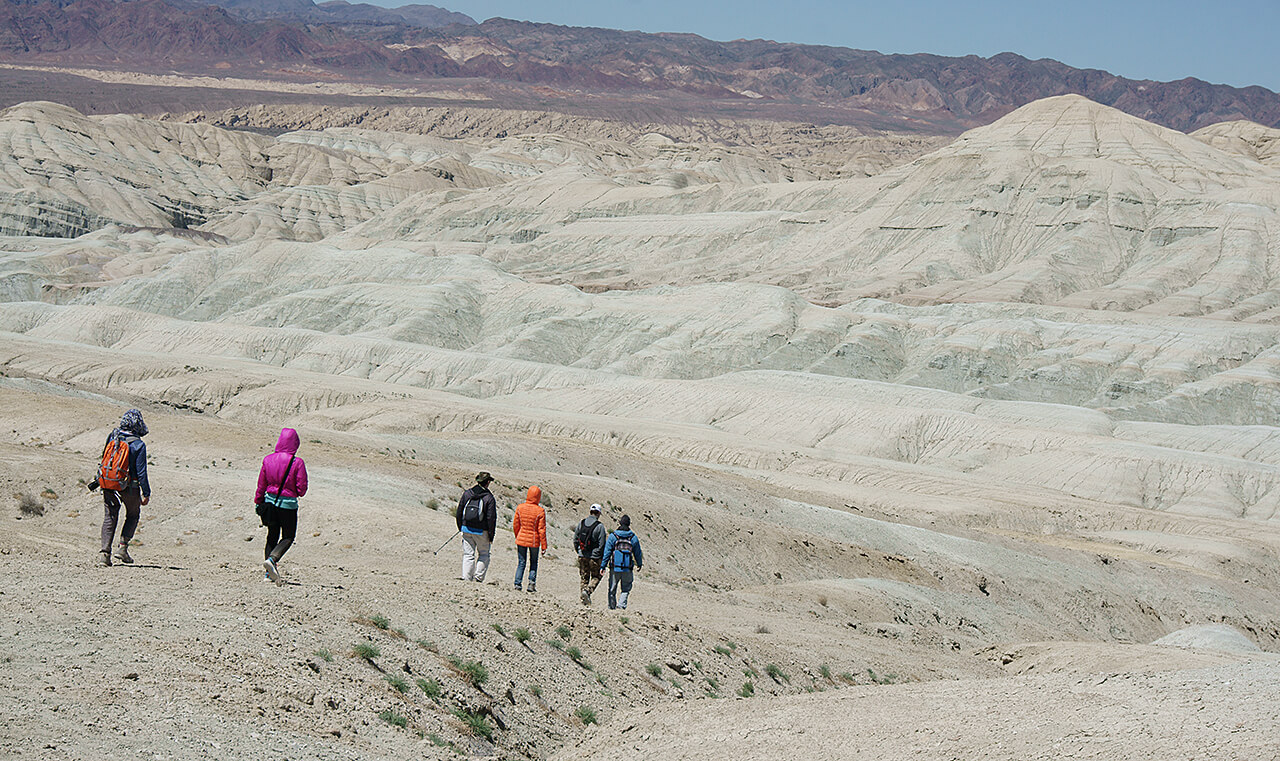 Programme
1 day
4,5 h. Transfer to Baschi village.
1 h. Singing Dune.
1 h. Hiking.
1 h. Lunch near the spring of Chokan Valihanov.
1,5 h. 700-year-old willow.
1,5 h. Aktau mountains.
Setting of the camp, supper.
2 day
Wakening time, breakfast.
3 h. Hiking into the two gorges.
1 h. Gathering.
1 h. Katutau mountains (foto with lava).
5-6 h. Return to Almaty (stop in cafe of the road).
Price includes:
Transport service (city – Altyn Emel– city)
Guide service
Rent tent 2-3 places
Cook
Food
Permit on National Park
Drinking water 1.5 liters / guest per day
Not include:
Rent of mats and sleeping bag – $10 / 1 person / all route
You can stay in a hotel with all the amenities in the village of Basshi. Paid separately (about $ 20). *
Every person need to take:
Accoutrements:
backpack (15-30 L)
sleeping bag (comfort +10…+15оС)
camping mat
headlamp
sunglasses
bottle for water.
Clothes:
shoes
cap
thermal wear
thermal pants
warm pants for the evening
fleece jacket
windstopper coat
raincoat
clothes for change.
Documentation:
Personal items:
sunscreen
toothpaste
toothbrush
soap
towel
individual cosmetics
personal dishes (cup, plate, spoon).
Personal medicine box:
Phones, Whats'App: + 7705-416-0365 (Sergey)
Phones, Whats'App + 7705-391-7744 (Yuriy)
Phones, WhatsApp: +7-707-708-1889 (Julia)
E-mail: ekstremal-kz@yandex.ru , adrenalinicsilence@mail.ru  yushin_yurii@list.ru
Video from different trips to Altyn-Emel: