Price:
130$ (1 person)
170$ (2 persons)
210$  (3 persons)
Season: May-October
Duration: 1 day
Route: Almaty – Big Almaty lake – Issyk lake – Turgen waterfall – Almaty
This tour takes place at the most affordable and beautiful places of the Tien Shan mountains located near Almaty. We will visit the three most popular natural attractions, hidden in the cool mountain valleys. In the morning visit the mountain lake that holds massive natural dam. Driving through the endless roads among the forests of the Tien-Shan fir-tree, at an altitude of 2,500 m, we'll finally see one of the pearls of the Tien-Shan mountains is the Big Almaty lake. In good weather, you will be amazed by the surrounding of the lake, the snowy peaks, reaching heights of over 4000 m. If we're lucky, we will see the Sovetov peak 4317 m is one of the highest peaks, located near the city of Almaty.
The following paragraph will become another lake of the Tien-Shan mountains is the Issyk. Below are several BAL at the altitude of 1800 m, where the hardwoods give way to conifers. Once there rested the members of the Communist party of the USSR, floated the boat. However, in 1963 this lake suffered a sad fate. Powerful mudflow has almost completely destroyed it,  should communicate a natural dam. Now the lake is partly restored. Previously it was 3 times more. But the flow of tourists, it still has not dried up. Everyone who comes to Almaty, wants to be here and to impress themselves on his background.
After lunch in the small town of Issyk, we will go to the Turgen valley. This is a very long gorge which you can walk for a few weeks. Among fans of autos, it is known for its waterfalls is Bear and Kairakskiy and mountain plateau Assy. We will visit one of the Bear waterfall. Unlike the previous attractions to the waterfall you must make a mini-hike on a mountain trail. The path will take 15-20 minutes the Bear waterfall is one of the highest waterfalls of the Trans-Ili Alatau (the closest to the Almaty mountain range of Tien-Shan). Its height is about 50 m. A powerful stream of water, crashing against the rocks, forming a fascinating spectacle that you can watch for hours. In hot summer days some tourists swimming in the cold mountain waters of this waterfall. Return by the same path to our cars and returned to the city.
I think You will enjoy the natural beauty of the Kazakhstan, which were not inferior to the landscapes of the Alps!
Programme
1,5 h. Transfer to Big Almaty lake (photo).
2,5 h. BAL – Almaty – Issyk lake. Short hiking. Photo.
1,5 h. Transfer to Issyk city. Lunch in cafe.
1 h. Transfer to Turgen valley.
30-40 min. Hiking to waterfall. Photo.
3 h. Return to Almaty.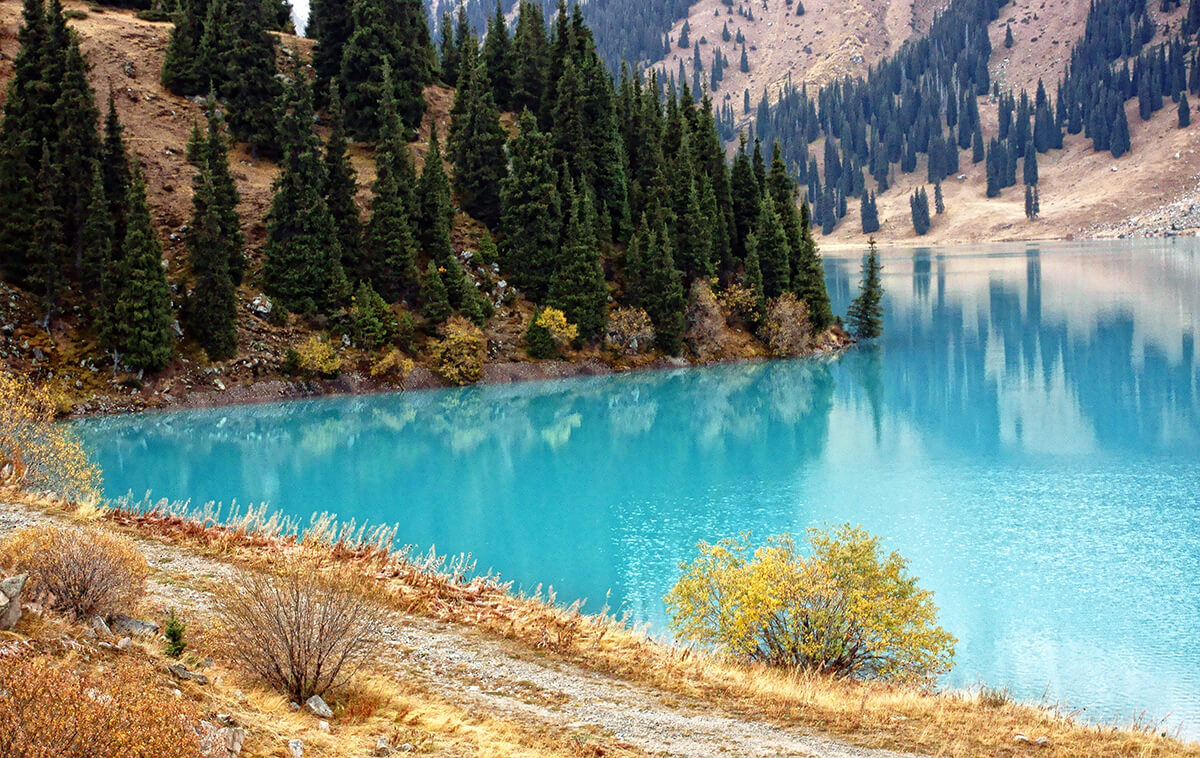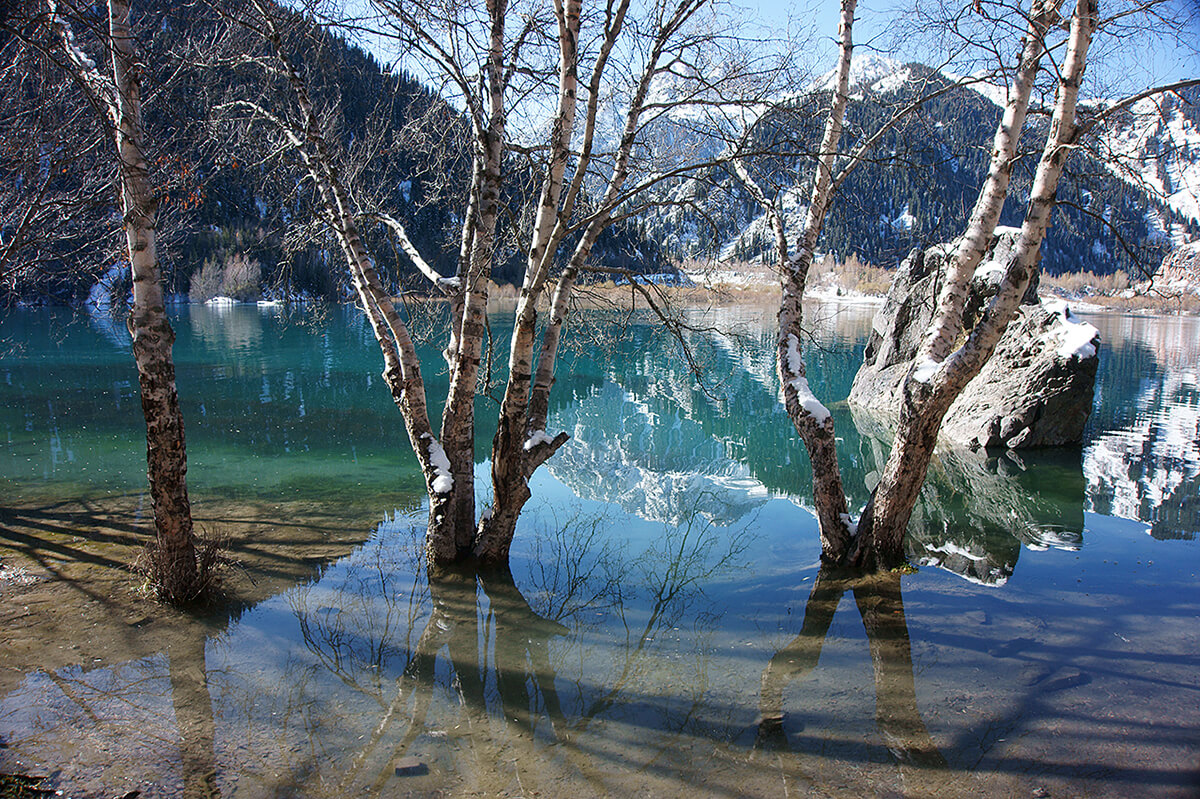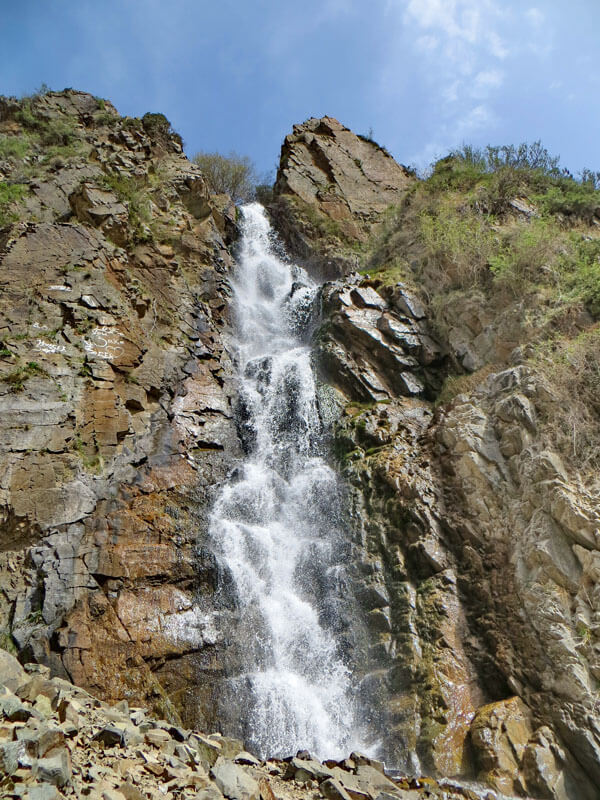 Price Includes:
Transportation (Almaty-Mountains-Almaty)
Guide service
Guide-translator
Permit for visiting Ili-Alatau National Park
Drinking water 1.5 liters / guest per day
Not include:
You need to take:
a small backpack,
bottle of water (1.5 l)
raincoat (no matter what forecast is, it is better to take it)
lunch
cap
sunglasses
camping mats for the rest
hiking shoes
lightweight sportswear
reserve warm clothes
Phones, Whats'App: + 7705-416-0365 (Sergey)
Phones, Whats'App + 7705-391-7744 (Yuriy)
Phones, WhatsApp: +7-707-708-1889 (Julia)
E-mail: ekstremal-kz@yandex.ru , adrenalinicsilence@mail.ru  yushin_yurii@list.ru