Price:
500$ (1 person)
660$ (2 persons)
750$  (3 persons)
Season: May-September
Duration: 3 days, 2 nights
Accommodation: in tents
Area: Northern Tien-Shan mountains, National Park Kolsay Lakes
Route: Almaty – Kolsay lake first – Kolsay lake second – Saty village – Kaindy lake – Almaty
Amazing area of the Tien Shan, where among forests hid 3 beautiful lakes. Like a string of pearls, a triad of high-mountainous lakes with abrupt slopes thickly covered with the Tien Shan fur-trees decorates Nothern Tien-Shan, in eastern spurs of the Kungey Alatau. This is a fine place for camping and hiking, travel on horses and mountain bicycles. The nearest settlement is the Saty village, some 280 kms of Almaty. The first Kolsay lake stretches for 1 km. It is at the height of 1818 m and about 300 m wide. There is a road to it. The water is clear and transparent that you can see living in the lakes of the Royal fish – trout.
The middle Kolsay lake is at the height of 2252 m, 6 kms above the first. It is bigeest and extaordinary picturesque, like a turquoise-crystal bowl in palms of the mountains. By sunset, the lower and middle Kolsay lakes "boil" from the playing trouts.
Upper Kolsay lake is 4,5 kms further and 400 m higher then the middle lake. Further on, within 6 kms is the Sarybulak pass (3278 m) that is a border with Kyrgyzstan a nice view to the blue Issyk-Kul lake opens from here.
The Kaindy lake. Strangely enough, the lake with such name is located among a magnificent coniferous wood at height of 1867 m above see level. It was formed about a 100 years ago as a result of a landslide of huge mass of rock which made a natural dam. The lake is about 400 m long and up to 30 m deep. From a rocky crest there is a tremendous view to the gorge and the Chilik river valley. Dead trunks of fur-trees tower above a water surface, like masts of the sunken ships.
If you want to see the main attractions in 2 days, then we recommend this option Jeep-tour Charyn-Kaindy-Kolsay
Programme
Day 1
6 h. Transfer Almaty-Kolsay National Park.
1 h. Lunch.
1 h. Trekking along first lake.
Setting of the camp, supper.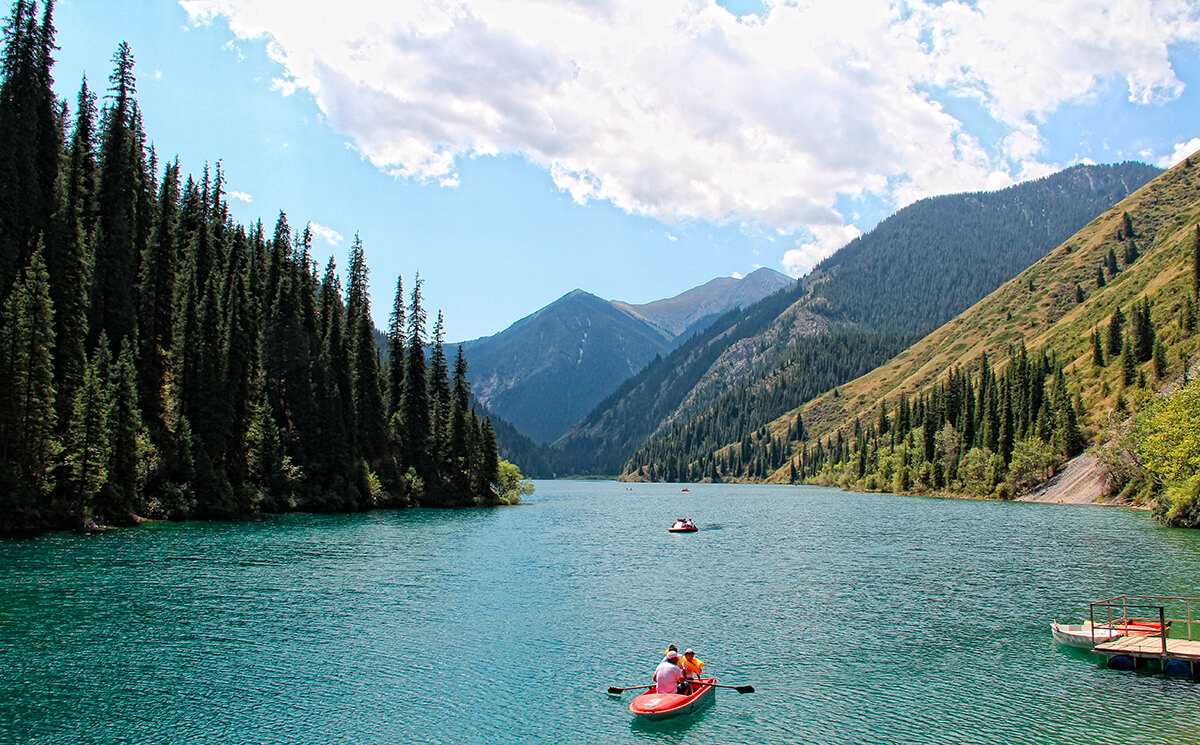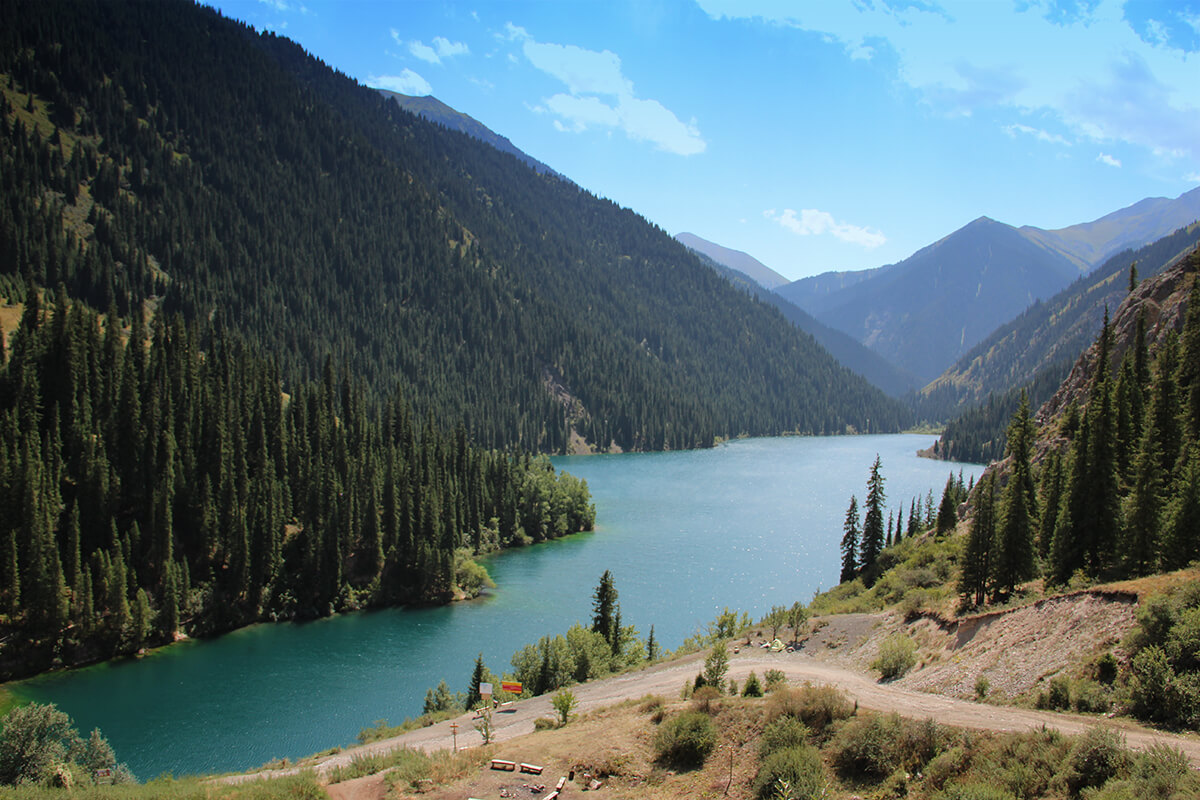 Day 2.
Wakening time, breakfast, gathering.
4 h. Trekking to second lake.
1 h. Lunch
2 h. Coming back to first lake.
Supper.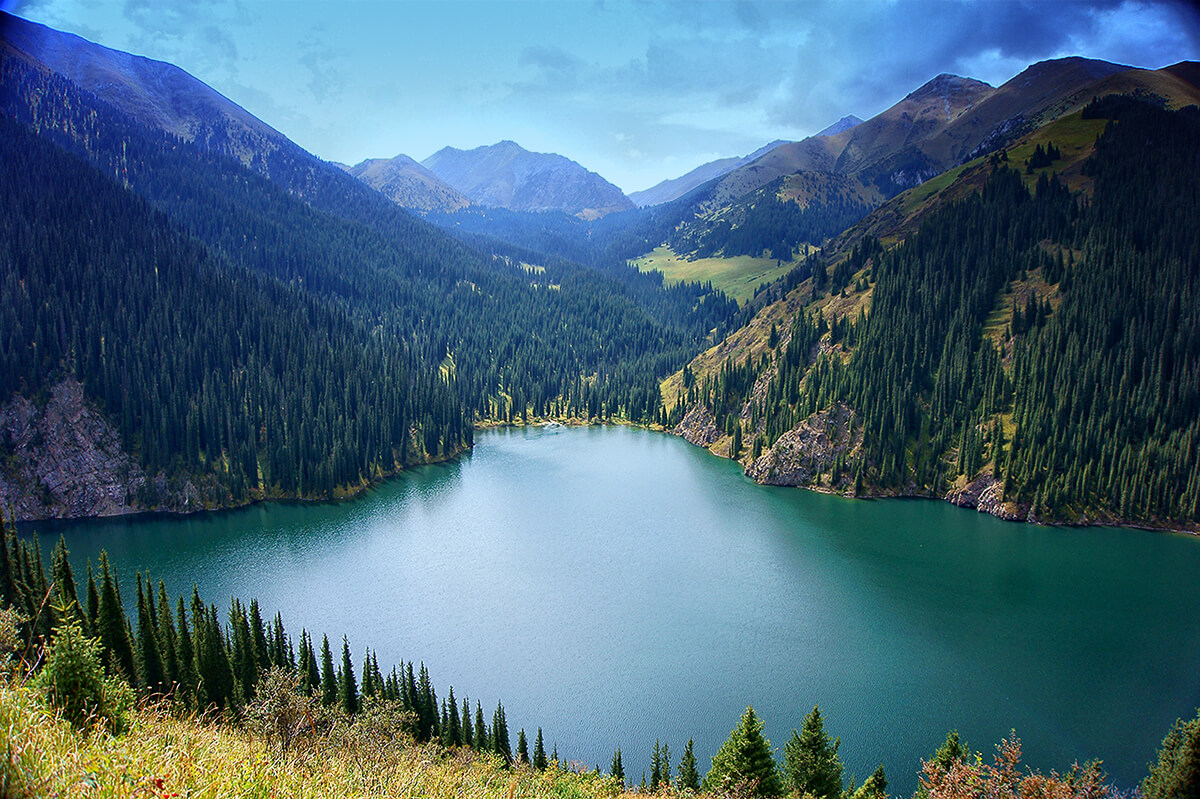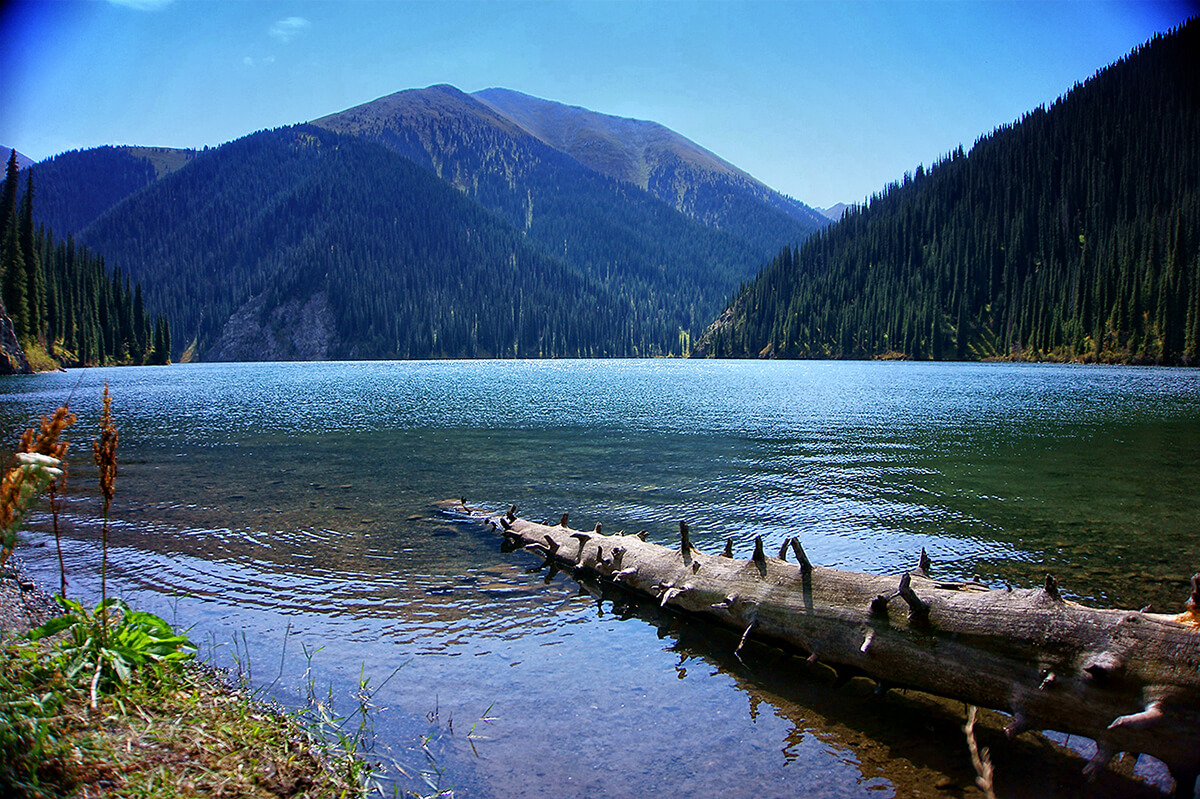 Day 3.
Wakening time, breakfast, gathering.
1 h. Coming back to car.
2 h. Transfer to Kaindy lake.
1 h. Lunch and foto.
5 h. Transfer to Almaty.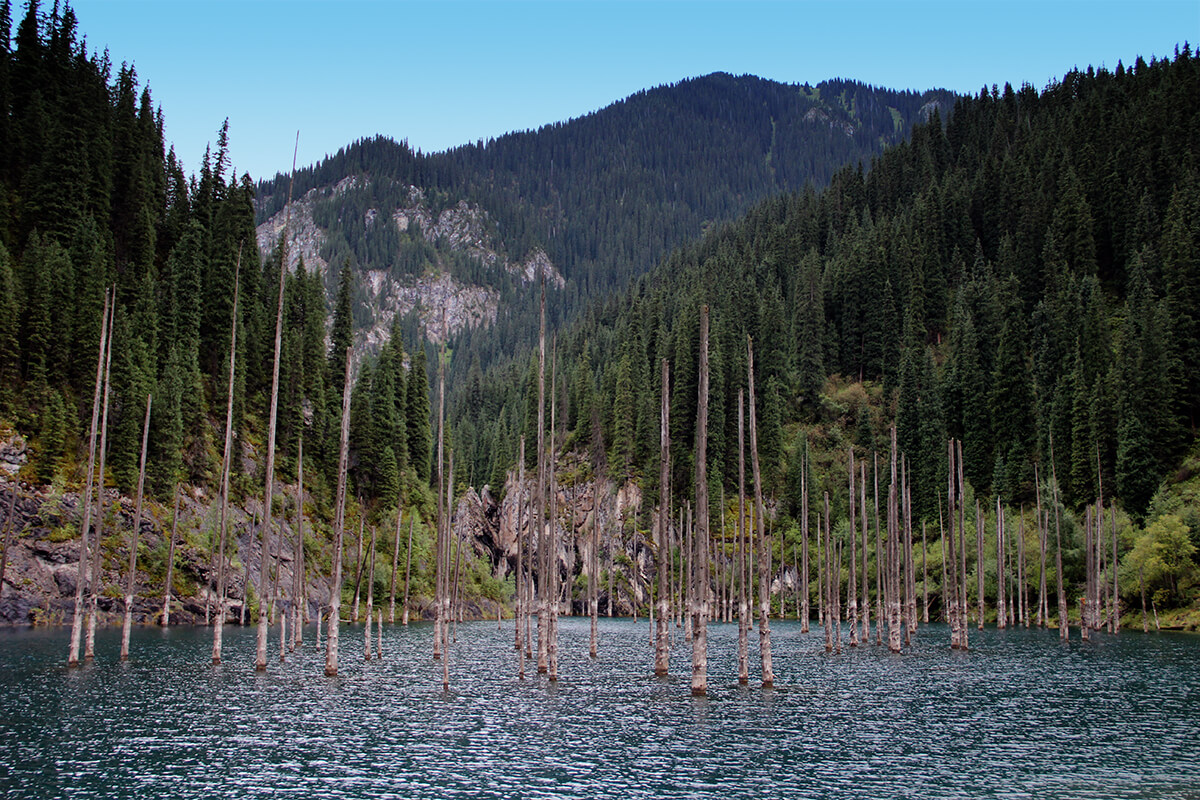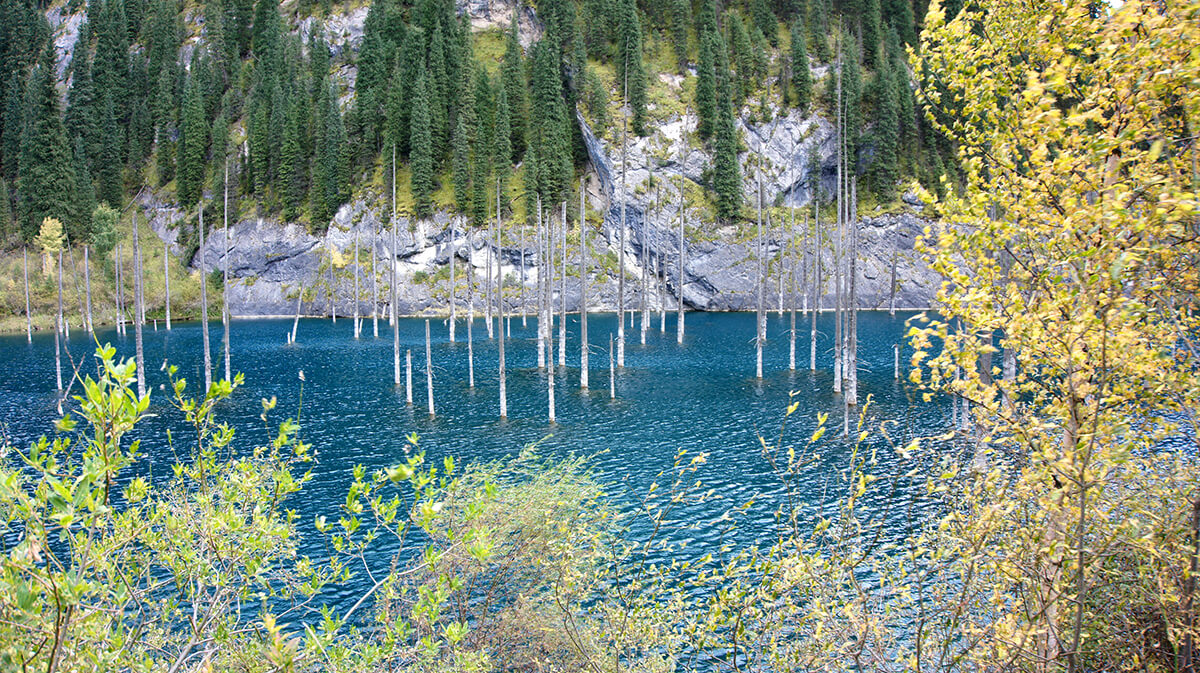 Price includes:
Transport service (city – mountains – city)
Guide service
Rent tent 2-3 places
Cook
Food
Permit on National Park
Not include:
Rent of mats and sleeping bag – $20 / 1 person / all route
Every person need to take:
Accoutrements:
backpack (15-30 L)
sleeping bag (comfort +10…+15оС)
camping mat
headlamp
sunglasses
bottle for water.
Clothes:
shoes
cap
thermal wear
thermal pants
warm pants for the evening
fleece jacket
windstopper coat
raincoat
clothes for change.
Documentation:
Personal items:
sunscreen
toothpaste
toothbrush
soap
towel
individual cosmetics
personal dishes (cup, plate, spoon).
Personal medicine box:
Phones, Whats'App: + 7705-416-0365 (Sergey)
Phones, Whats'App + 7705-391-7744 (Yuriy)
Phones, WhatsApp: +7-707-708-1889 (Julia)
E-mail: ekstremal-kz@yandex.ru , adrenalinicsilence@mail.ru  yushin_yurii@list.ru