PRICES
Rent sleeping bag (comfort -2…-7оС) and camping matts
1 night = 10 USD
2 nights = 15 USD
3 nights = 20 USD
4 nights = 25 USD
5 nights and more = 30 USD
Trekking tents (2 and 3 places)
1 night = 10 USD
2 nights = 15 USD
3 nights = 20 USD
4 nights = 25 USD
5 nights and more = 30 USD
Alpinism tent Red Fox Explorer (only one)
1 night = 25 USD
2 nights = 40 USD
3 nights = 55 USD
4 nights = 70 USD
5 nights and more = 80 USD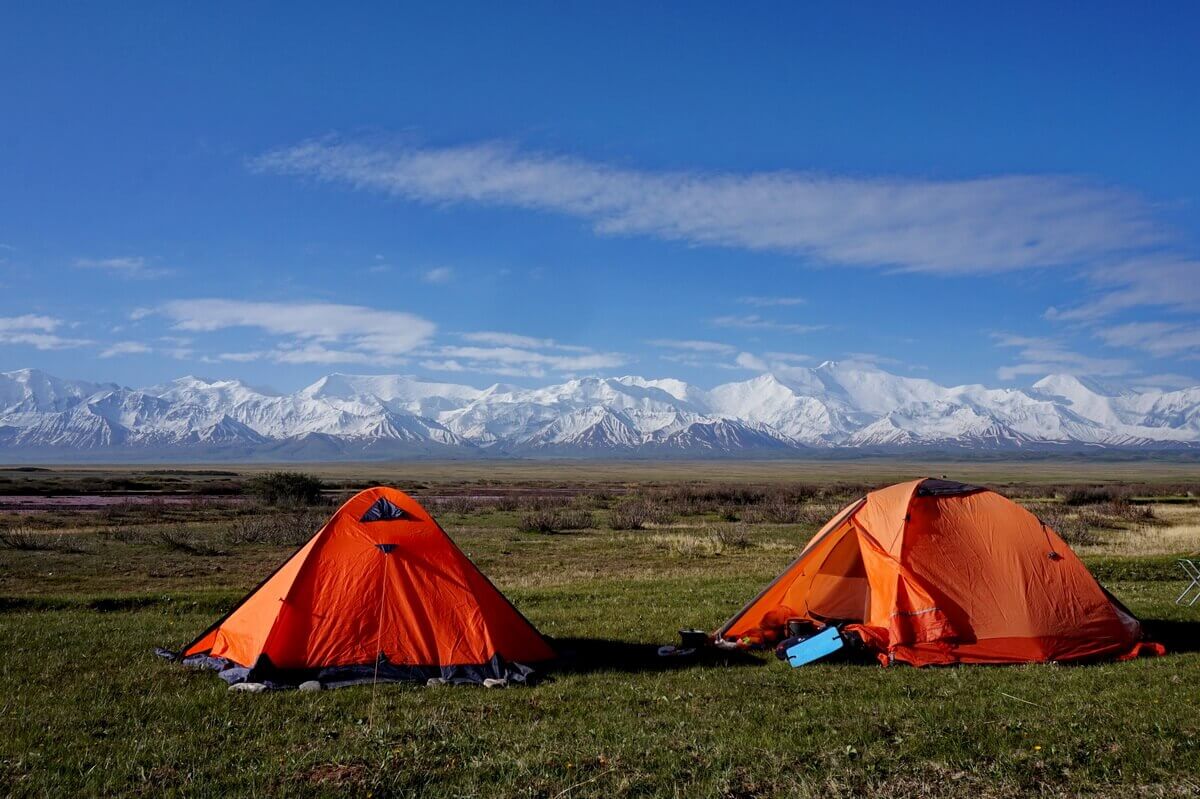 Rental rules
The equipment is issued to the Lessee on the Deposit for each piece of equipment: a sleeping bag – 100 USD, a tent – 200 USD, a alpinism tent – 300 USD. The Deposit is returned when returning equipment that must be in the same condition as it was issued.
The Lessee takes full responsibility for the rental of equipment.
In case of loss, theft or damage to the rented equipment, the Lessee will reimburse 100% of the losses caused. If the equipment is not fully suitable for further use, a fee is charged for each unit of damaged equipment (the left Deposit is withheld): a sleeping bag – 100 USD, a tent – 200 USD, a alpinism tent – 300 USD.
The lessee can return the equipment before the end of the rental period. At the same time, the payment for rent remains the same.
If the equipment is returned later than the rental period, the lessee pays for each night of delay.
All rental equipment is prepared for use. When you receive equipment for rent, make sure that it is completeness and integrity. After receiving the inventory, claims to its completeness and integrity are not accepted.
The Lessor is not liable to the Lessee and third parties for any possible damage caused to the Lessee and / or third parties during the use of the rented inventory.
Damage to equipment
1 broken lock 15 USD.
1 minor cut (up to 2 cm) on the outer or inner awning of the tent or sleeping bag 15 USD.
1 broken section of the arc on the tent – 30 USD.
Serious cuts on any equipment and other damage to it, in which further operation is not possible, full payment is made for each unit of damaged equipment.
Please remember that You are responsible for the safety of the rented equipment. Treat it as you would your own equipment!
Download, fill out the form where is marked xxx and send us an email: yushin_yurii@list.ru
Before booking equipment, find out about its availability. Whats'app +7 705 391 7744 or mail yushin_yurii@list.ru