Multi-day mountain trips in Kazakhstan are possible only backpacking style. Mountain huts are no in our country, therefore, there are not many tourist mass. Enjoy solitude and adventure as you embark on a self-sufficient journey deep into Kazakhstan's most stunning wild areas. You'll be carrying everything you need for the backpacking tours. Backpack weights vary between 15 and 25 kilos, depending on the area, the duration of the trip, the time of year, and your height and weight. If you buy one of our backpacking tour, all meals are included from lunch the first day through lunch the last day, and your guide will prepare all meals.
If you'd like to do a standard backpacking trip but prefer not to carry the gear, we offer porter services for $75 per porter per day. The porters can carry up to 15 kilos of guest gear.
Almaty mountains are most popular place in Kazakhstan for travel with backpack. But… there are no marked trails in the mountains, so if you have no experience of autonomous hiking, the best choice is to take a guide for your backpacking trips.
Our backpacking trips are difficult due to long hiking distances, elevation gains/losses, rugged terrain, off-trail hiking, and/or pack weights. They demand a lot and they reward a lot!
Altitude sickness can be another common problem when hiking around Almaty as some of the mountain trails are quite high. Due to the limited health care available in Almaty, it's very important to take the proper time to acclimatize.
Variants backpacking trips near Almaty
The most popular trekking around Almaty goes from Medeo to Big Almaty Lake. Turgen Gorge located on east from Almaty and offers great potential for trekking with backpacks.
Big Almaty Round travel (4 days) is a most popular trekking with backpacks. It's circuit trekking route. The most beautiful near Almaty! If you are in doubt or don't know what to choose. This is a great option! This trekking is dominated by the best qualities of the North Tien Shan: rugged, steep and beautiful. On this four day trek, our route takes us up to a series of stunning sub-alpine basins with dramatic views of the snow peaks of the North Tien Shan. We enjoy lush forest, stunning meadows and big glaciers. On day 3 we'll climb up to Tourists pass height of 4000 meters and descend the famous Big Almaty lake.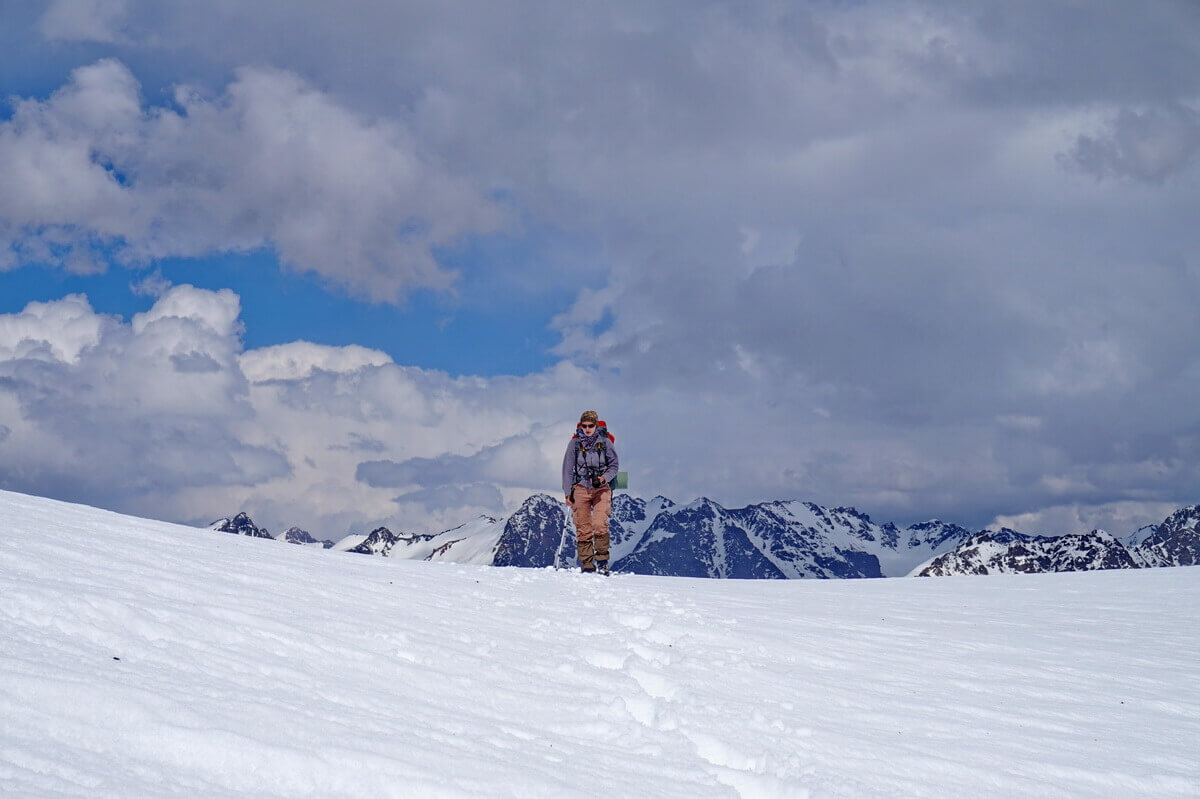 Backpacking to the Turgen lakes and glacier (4-5 days). You'll get absolutely fantastic hiking in on one of the Almaty region most impressive mountains. These trips take you high onto the flanks of Tien Shan mountains, into the alpine zone, for big views, wildflowers and stunning beauty. We will experience amazing wildflowers, pristine alpine lakes, mesmerizing views of the Peak Saint Mary summit (4407 meters), glaciers, waterfall and wildlife.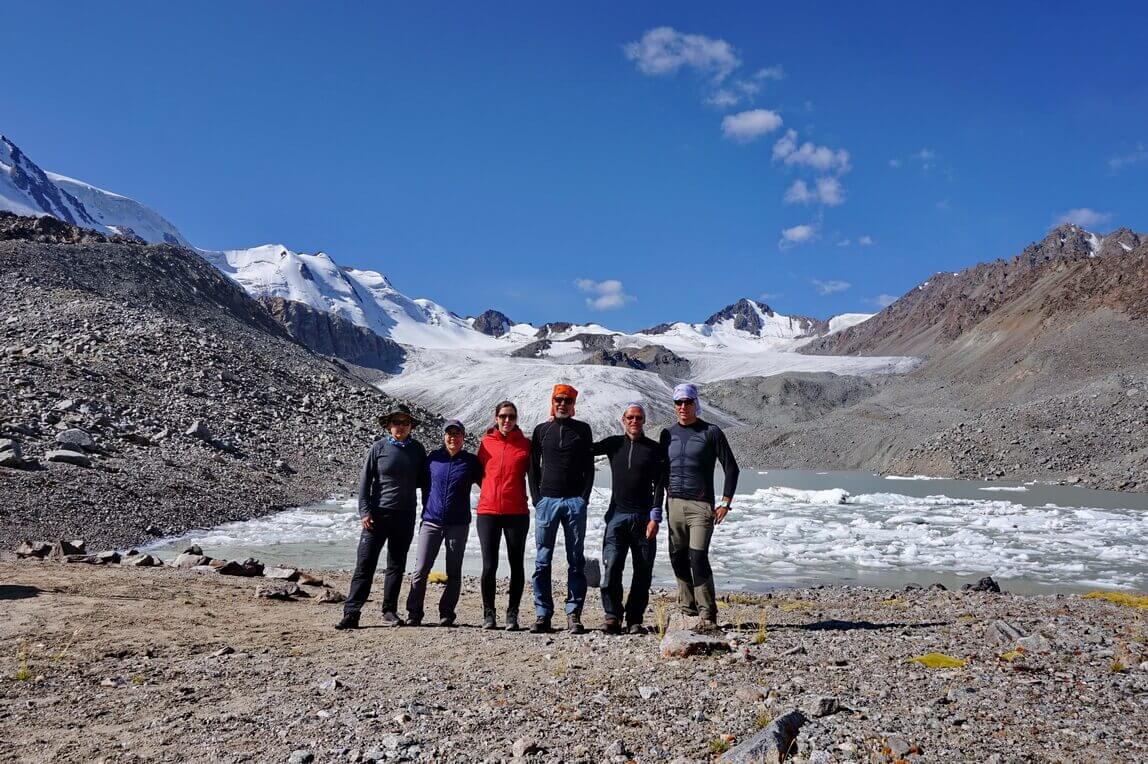 Short backpacking 2-3 days with an overnight stay will allow you to fully enjoy the beauty of the North Tien Shan mountains: forests, waterfalls, lakes and glaciers. This is the simplest trekking, which would not be long intensive exercise.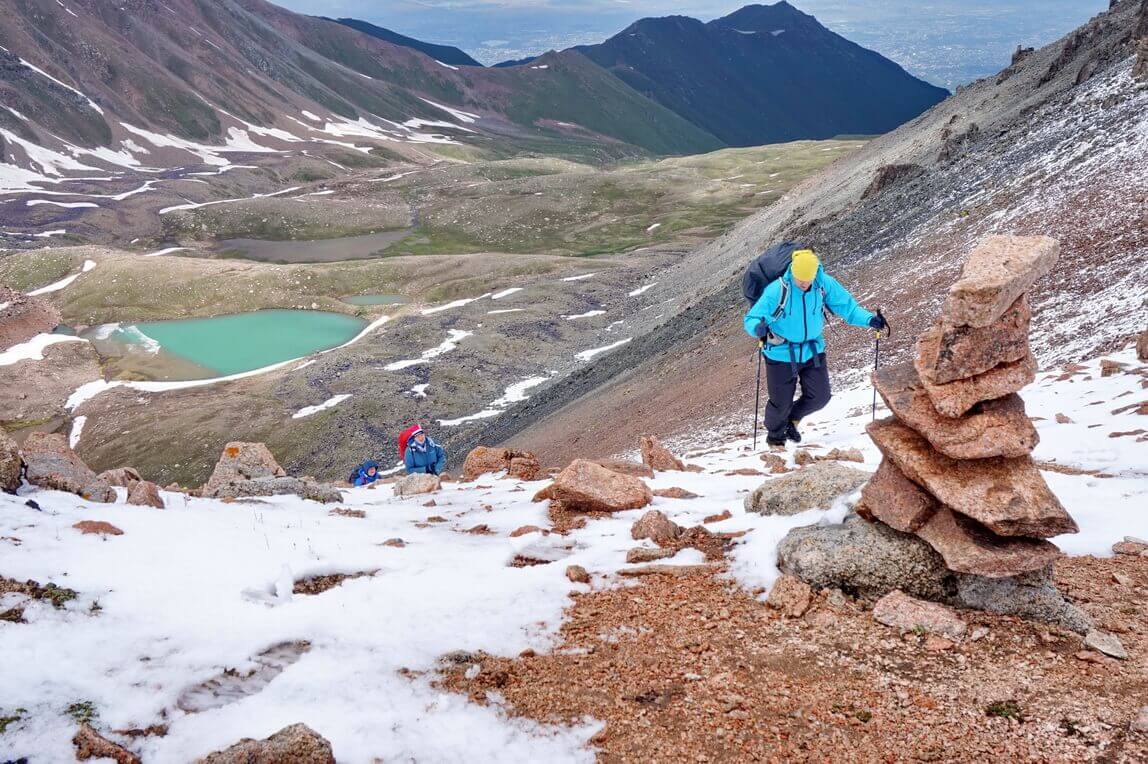 Peaks 4000 meters. There are few cities in the world that you can climb 4000 m for 2 days. You can climb for 2-3 days without special climbing equipment on one of the highest peaks in the mountains near Almaty. Only hard hiking! Least of all time takes to climb on the peaks Molodejniy and Sovetov – 2 days. The easiest is to climb to the mount Karniznaya. Other routes pass through the steeper slopes with enough length of sections of stone scree, which complicates the movement. You should be in good health, it helps quickly adapts to the altitude in the mountains.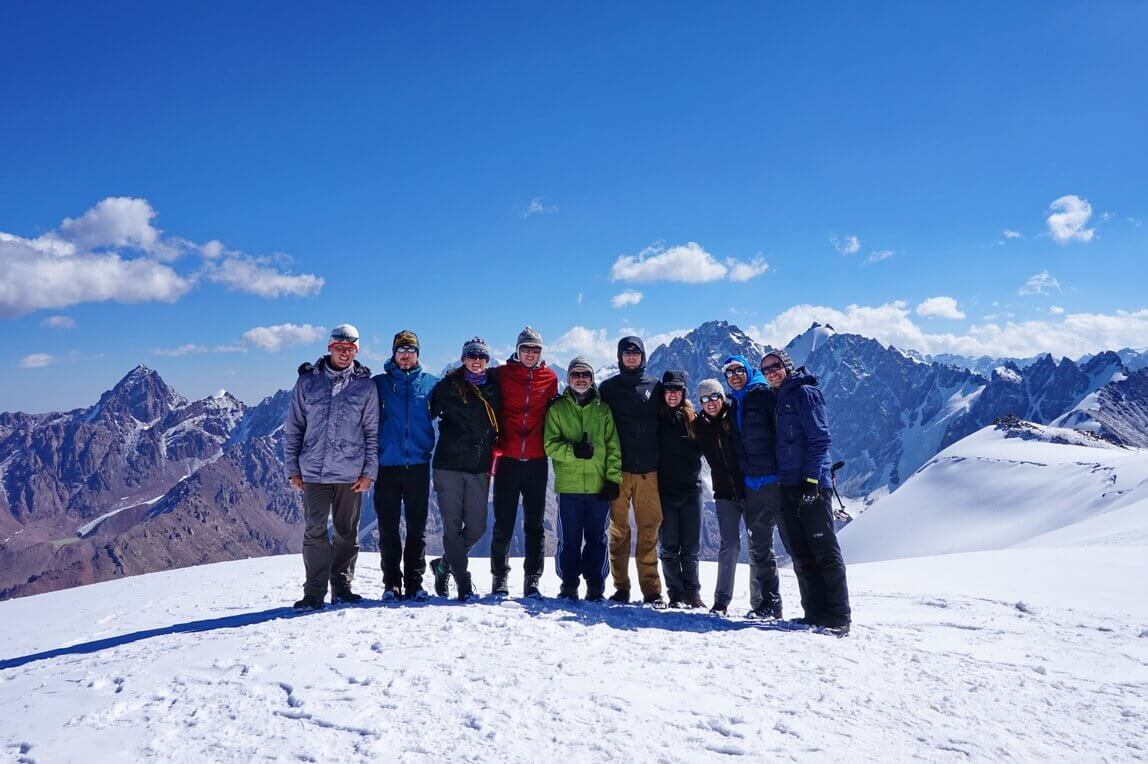 Expedition or long trekking with backpacks (10-11 days). Such long treks are for big mountain lovers and experienced hiker. In one trip we will cross almost the entire range of Ile Alatau from east to west. We will hike more than 100 km. This adventurous trip is for people who want to get off the beaten path and explore the deep wilderness of North Tien Shan. We stay primarily in the stunning high country of spectacular Ile Alatau National Park, exploring remote glacial-carved mountains, alpine lakes, ice-cold rivers, serene meadows, and wildlife. Our camps will in pristine settings at alpine meadows or near the glaciers.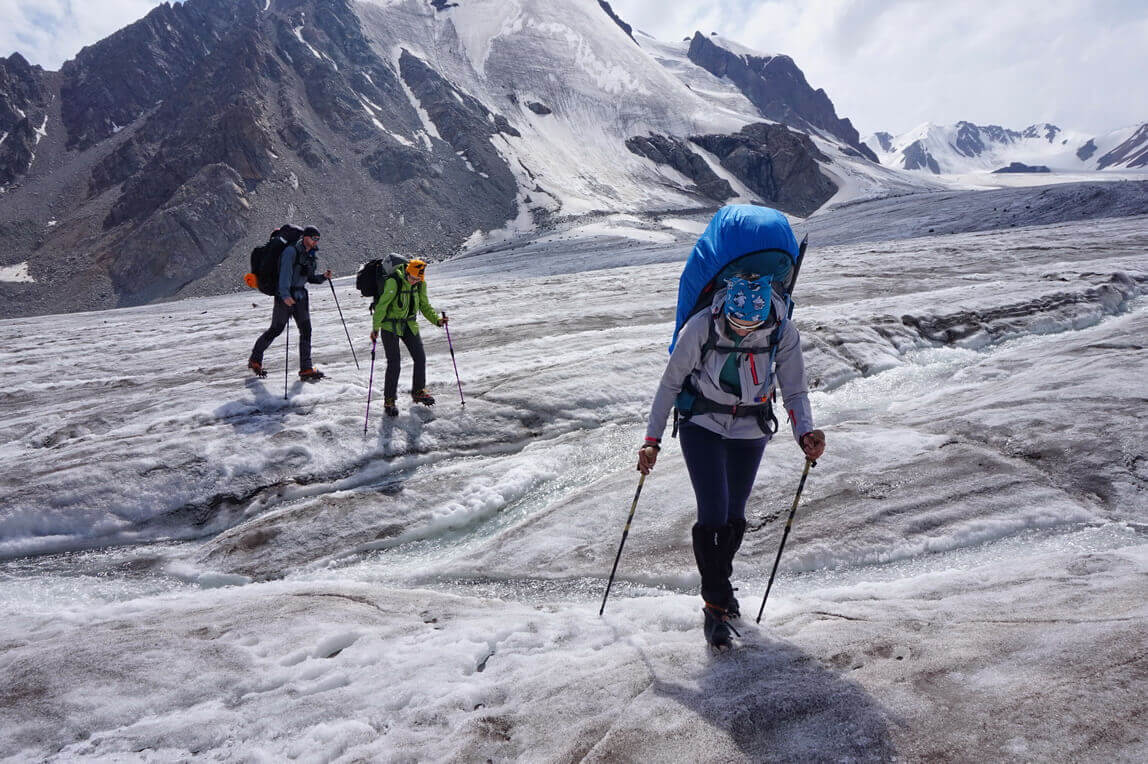 Mountaineering tour around Almaty. We offer climbing tours for real extreme tourists.
2-3 days.
Komsomol (Nursultan) peak 4376 m
Sovetov 4317 m
Karlytau 4170 m
Molodejniy 4147 m
5-10 days. It is a long, challenging, rewarding hikes that features mountainous terrain, fantastic views, and abundant wildlife. With a great mix of meadow hiking and peak climbing. Mountaineering in North Tien Shan is a demanding, rewarding, thrilling and unforgettable experience. Our tours including climb to the highest point near Almaty – Talgar peak.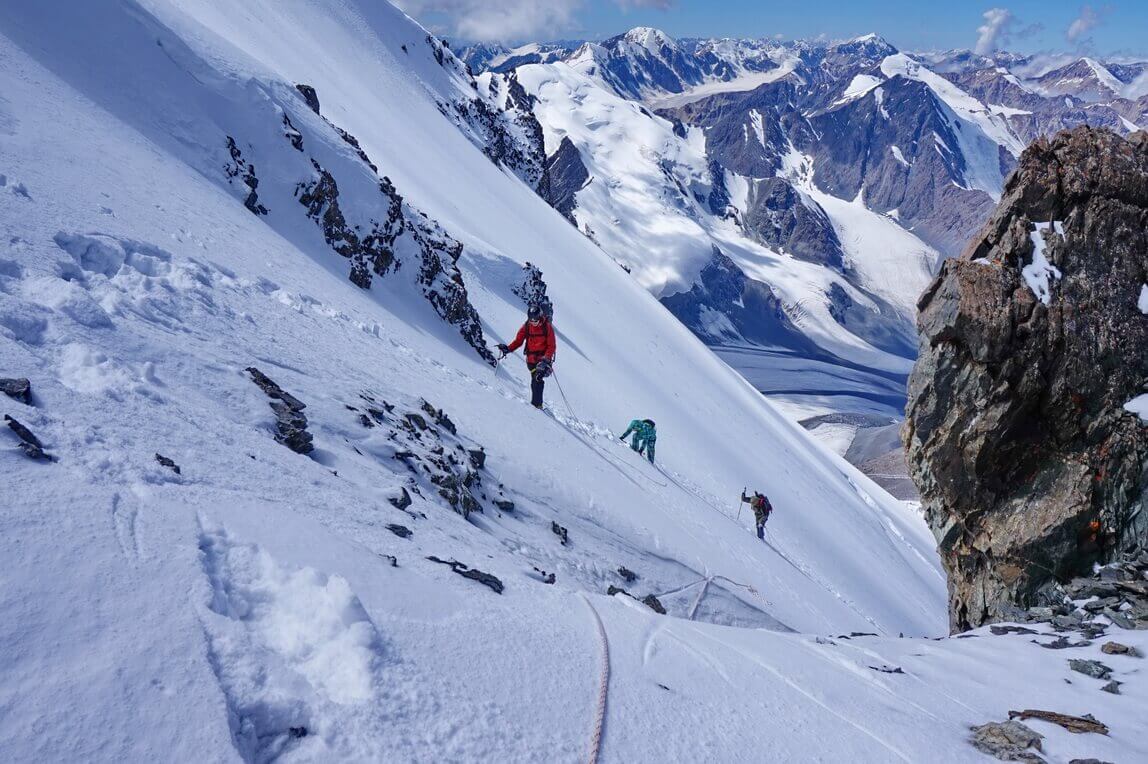 Almaty backpacking map
Season/weather
Early: mid May-June. High: JULY-AUGUST. End: September.
If you are camping in mountains, be aware it cools down quickly and drastically at night at high altitude.
Temperature, оС (night-day)
Locality

H, m
May
Jun
Jul
Aug
Sep
Oct
Shymbulak
2000

+13

+17

+20

+19

+15

+10

+4

+8

+11

+10

+6

+1

Mynzhilki
3000

+7

+10

+12

+12

+8

+4

-2

+2

+5

+4

0

-5

Tuyuksu
3450

+4

+7

+9

+10

+6

+1

-5

-1

+3

+2

-2

-8
Precipitation, mm
| | | | | | | | |
| --- | --- | --- | --- | --- | --- | --- | --- |
| Locality | H, m | May | Jun | Jul | Aug | Sep | Oct |
| Shymbulak | 2000 | 173 | 137 | 97 | 62 | 42 | 56 |
| Mynzhilki | 3000 | 149 | 154 | 138 | 92 | 47 | 46 |
| Tuyuksu | 3450 | 150 | 165 | 156 | 97 | 58 | 60 |
Sunny / cloudy or rainy (%)
| | | | | | | | |
| --- | --- | --- | --- | --- | --- | --- | --- |
| Locality | H, m | May | Jun | Jul | Aug | Sep | Oct |
| Shymbulak | 2000 | 40/60 | 50/50 | 65/35 | 70/30 | 75/25 | 75/25 |
| Mynzhilki | 3000 | 40/60 | 40/60 | 60/40 | 65/35 | 70/30 | 70/30 |
| Tuyuksu | 3450 | 50/50 | 40/60 | 60/40 | 65/35 | 70/30 | 70/30 |
Hiking boots. Be kind to your feet because you'll need them to bring you across the mountains! All trips require a sturdy pair of hiking boots. Choose comfortable hiking shoes that protect your feet from rocks and debris on the trail. The shoes should have a good grip, keep your feet dry and be light enough to move easily.
Food
All of our hiking and backpacking tours include a diversity of tasty meals packed full of critical carbohydrates, proteins and fats. We carry foods that travel well in the backcountry – buckwheat, rice, pastas, mashed potato, canned fish, packaged meats, nuts, breads, oatmeal, granola, and more. For optimal taste and energy, we supplement all our meals with spices, cheeses, sugar, and dried fruits.
Articipants should
be active and healthy
regularly exercise vigorously
be comfortable hiking for several hours without many breaks
Come join us this summer for a trip you'll never forget!
Contact
If you still have any questions about Almaty guided backpacking tour:
whats'app number: +7 705 391 7744
e-mail: yushin_yurii@list.ru
Prices of
mountain guide services
Rent equipment for backpacking in Almaty
(tents, sleeping bags and matts)
About
Almaty one-day hikes